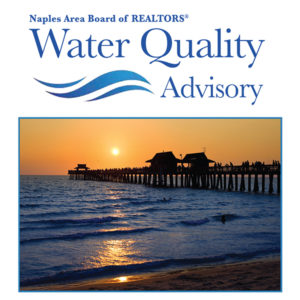 Recent media attention on water quality issues impacting Florida's marine and intercoastal areas is shining a bright light on a very important topic.
There are many factors at play, which is why it requires collaborative efforts from several groups including the Department of Environmental Protection, Army Corps of Engineers, scientists at Florida marine labs, local water management districts, and elected state and federal officials. NABOR® has been working actively for many years to encourage restorative solutions to our waterways and will continue to meet with legislators who are working on remedies that protect homeowners and the environment.
This informative newsletter was created by NABOR®'s new Water
Quality Advisory Task Force, led by President-elect Jeff Jones, and board members Adam Vellano and Corey McCloskey. Future issues will keep members aware of water quality issues and the work accomplished to reduce human activity and behaviors that worsen the situation.
NABOR® is on the Water's Edge
While there have been no reports of cyanobacteria blooms in Collier County, the source of the problem is a concern that is on NABOR's radar. As such, an emergency water quality status meeting was organized by members of your board during the Florida Realtors annual conference. Over 100 REALTORS from around the state attended and were given an update on proposed solutions and existing projects currently underway.
For more news about SWFL Water issues read the August_2018_Water_Quality_Newsletter PDF